Sex chat-Girls via Skype - xxx porn show
A possibility Web camera immerse into the maximum in the sweet world of virtual live sex. You can add them to your pals if in time of communicating favorites have been designated on your erotic chat room.
So that you don't have to pay for viewing a show that is good here. Just enter the conversation and search through the chambers. See this Model Profile button? Open it and you will notice the tag. If one tags other kind or a glass dildo of toy she'll definitely play with it.
For you, and hold on tight in your chair that you see in the video, It's not sufficient, you can watch in a live broadcast porn chat right now! Exactly! It's all attempt, simply check out this along with your own eyes! Just here you can choose any kind according to your taste and sexy personality. Make a selection of live sex partner or multiple partners and change your dull, gray monochrome evening into a stormy sex orgy, where you may appear behind the wheel for a manager of the full scenario of ecstatic sexual intercourse, and this will boil to your entire body!
Unlike other websites, we provide a wide variety of options which can meet your needs. Feel free to navigate choices and rooms that can satisfy your fetishes and fantasies. We supply gorgeous models, interactive chat options, and HD quality cameras for your viewing and webcam chat enjoyment.
We have a lot of sexy and hot latina and individuals here who enjoys having sex for the camera and get orgasms. We're lovers of the types of girls that aren't shy and love get undressed to show off the body and have intercourse. The real beauty is the freedom of the body.
Java Lecture Notes
These are the lecture notes I use in my course, Introduction to Java Programming, taught most semesters at Polytechnic University in Brooklyn (formerly known as Brooklyn Poly). This class is being taught at the senior undergraduate and introductory graduate level for computer science majors, and is split into 13, two hour fifteen minute classes plus a final exam:
Midterm
Week 14: Final Exam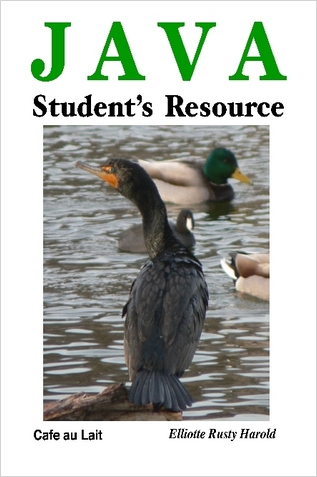 If you wish to use these notes for your personal education, entertainment, and enlightenment, please do. I hope they're helpful.
Java Student's Resource
After numerous requests, I have bundled up these notes and published them in book form, both electronic and paper. You can order a nicely printed copy of the notes entitled The Java Student's Resource from Lulu.com. A PDF is $19.95. A perfect-bound, printed copy is $35.90. All major credit cards are accepted. The book version contains essentially all the content you'll find here with the exception of a few very Poly-specific details like which room the class meets in and the date and format of the final exam.
The printed book is not available from other retailers such as Amazon. I thought about making it available there, but the tyrannies of ISBN numbers would have kept me from updating it as frequently as I like. Lulu doesn't tell me who ordered the book, but if you drop me an e-mail after you've ordered it, I'll put you on a mailing list to receive free updated versions of the PDF as they're released, probably 2-4 times a year.
Licensing this course
If you would like to use, modify, or adapt these notes for a course of your own, to be taught at a traditional non-profit, degree-granting school or university, a license is available for a nominal fee. Please send complete, verifiable contact information and details about the course to me at elharo@metalab.unc.edu. Please include:
Your full name and title
Your university e-mail address. (Hotmail, AOL, and other ISP addresses are not accepted. You must use your .edu address. Exceptions can be made for high school teachers whose school or district doesn't have their own domain name.)
Your professional URL or department web site URL
The course name and number
I can send you a tar or zip archive of the HTML slides that you can adapt for your course.
The same arrangement is available for most other non-profit institutions.
If you would like to use, modify, or adapt these notes for a course taught by a training company or a for-profit university such as the DeVry schools, or for internal use within your company, I license the notes on a per-seat basis. Please send me all of the above (.edu address not required), plus the number of students expected, and I'll quote you a price. I may also ask you to send me the registration list for the class.
Under no circumstances should you post these notes on any Internet servers visible to search engines or the public at large. This is the only official site.
---
Last Modified September 29, 2006
Copyright 1997-1999, 2001-2003, 2006 Elliotte Rusty Harold
elharo@metalab.unc.edu