Here's the best picture I got of the great tit (Parus major). Sadly, my consumer grade camera doesn't do this bird justice. It is a truly a gorgeous bird. This was taken in the Hortus Botanicus. If you're a UK birder, you've probably seen hundreds of these, and knew what you were going to see on this page. But I'd never seen anything like these birds before. To me, they looked like escaped pets.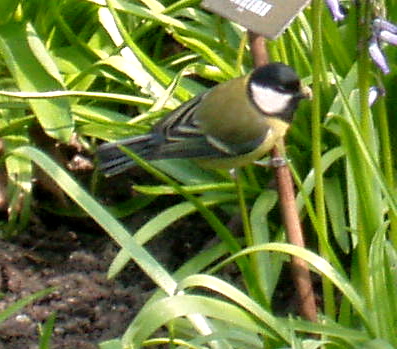 Other birds I spotted today included mallards, coots (but not the American kind I'm used to seeing in Prospect Park), great crested grebes (initially misidentified as red throated loons), wood pigeons, rock pigeons, magpies, and one grey heron.
Not fully identified birds (I didn't have my binoculars or bird book with me) included various crows, sparrows, gulls (probably common and black-headed but I'm not sure), starlings and common blackbirds. Back in New York I'm used to dismissing any black bird smaller than a grackle as a starling. I thought some of the Amsterdam starlings looked funny, but it wasn't till I got back to the hotel and looked in Collins that I realized there's more than one black bird that size over here. Looking at my photos I'm pretty sure I saw both male and female common blackbirds.
---
Copyright 2004 Elliotte Rusty Harold
elharo@metalab.unc.edu
Last Modified Sunday, April 25, 2004